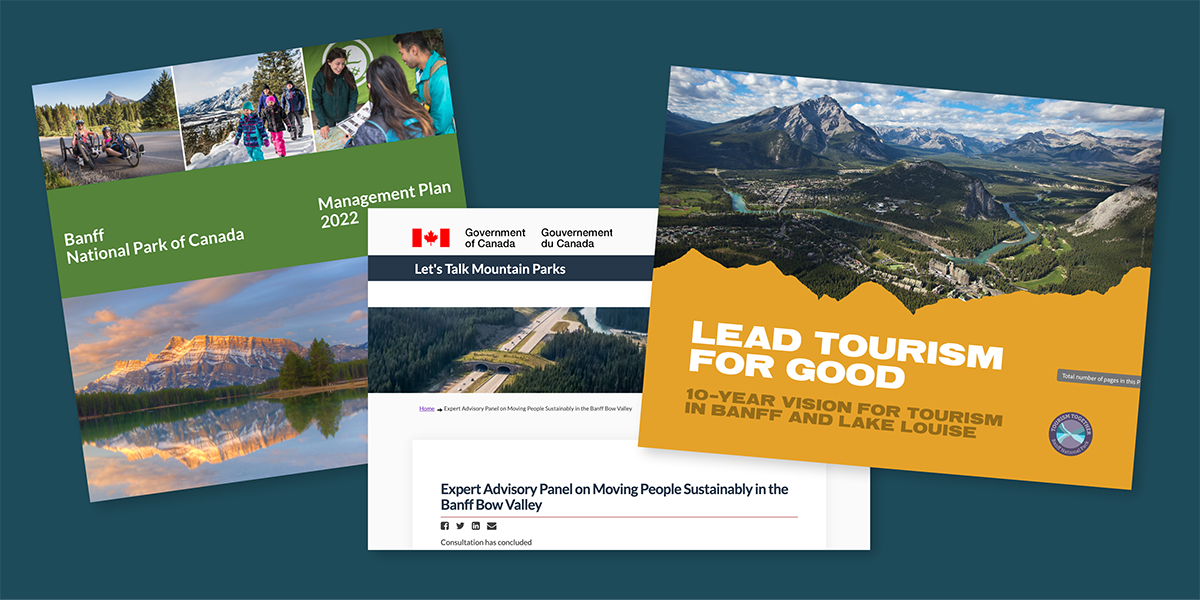 A foundational planning document
Over the last 10 years, the number of people visiting Banff has increased by 30 percent, from about three million to over four million people per year.
The Town of Banff saw this coming. In 1992, the Town's Downtown Enhancement Conceptual Plan identified the need to link visitor services from the train station site with destinations in and around Banff. At its core, the Plan called for the need to reduce private vehicles from the park and to explore mass transit options, including passenger rail to the Calgary International Airport. That was over 30 years ago.
The Banff Railway Lands Area Redevelopment Plan (ARP) is the framework needed to guide Banff to a more sustainable future.
The ARP provides the foundation to implement the ideas put forth by three key guiding documents:
Banff National Park of Canada Management Plan (2022)
The ARP creates a public gathering places that welcome people in an inclusive environment to learn and celebrate the cultural heritage of Indigenous Peoples, explore the railway's and local history, and provide true-to-place experiences for locals and visitors.
Parks Canada's Expert Advisory Panel on Moving People Sustainably in the Banff Bow Valley (2022)
Key recommendations identify the need to increase mobility options to, from, and within Banff and the Banff Eco Transit Hub is designed to host multiple transit options and services, significantly reducing traffic and impacts on the environment.
Lead Tourism for Good: 10 Year Vision for Tourism in Banff and Lake Louise (2023)
By supporting sustainable transit options and learning opportunities, the ARP addresses key elements of the 10-Year Vision, including the opportunity to reduce congestion, support sustainability, and improve resident and visitor experiences.
These are just some of the ways the Banff Railway Lands ARP can help activate these plans, rehabilitate a neglected part of the town, and make Banff a better and more sustainable place to live and visit.
To learn more and show your support, read the draft of the ARP here send a letter to Town Council and the Federal Minister of Environment and Climate Change here, and join the Banff Eco-Transit Hub newsletter here to get up-to-date information.