A platform for visitor and vehicle management
in Banff National Park
Bringing an innovative approach to recreating a historic arrival centre, Banff Eco-Transit Hub will lead to numerous opportunities. It is a public space that encourages the use of sustainable transit including buses, trains, cycling and a gondola; while improving walkability and providing community gathering spaces. It will become an integral part of the culture, aesthetic and working life of Banff, symbolizing how our past defines our future.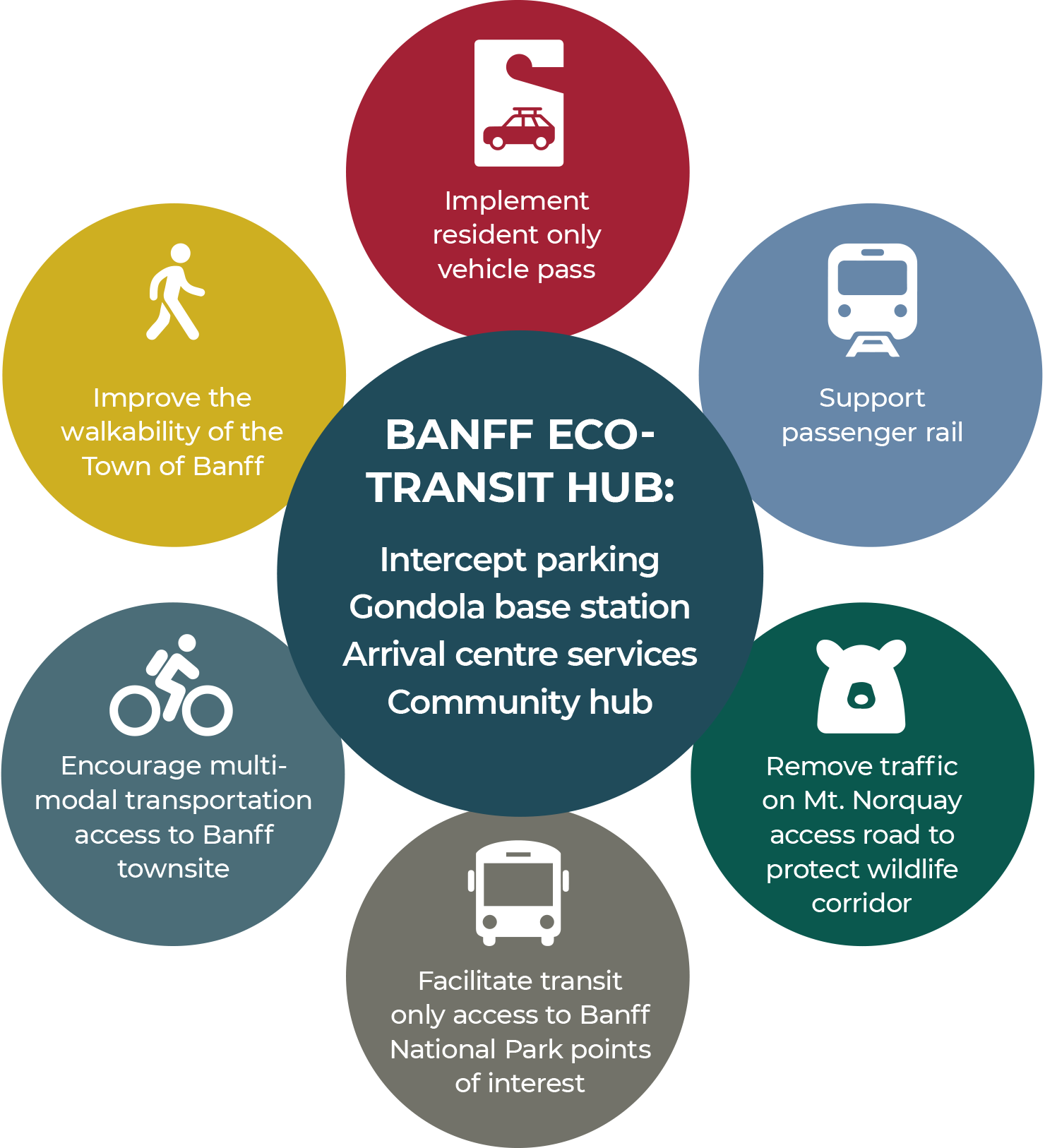 CHANGING HOW PEOPLE MOVE THROUGH BANFF
Transformation of the Banff Railway Lands into the Banff Eco-Transit Hub will rekindle the spirit, enthusiasm, vigour and economy of the early days of rail travel. It is a return to the historic role the area played as the gateway to Banff National Park, and will become a national model for sustainable transportation by:
Alleviating vehicle traffic congestion
Improving walkability
Enhancing ecological integrity—from Norquay to other points of interest in Banff National Park.
Banff Eco-Transit Hub and the revitalization of the Banff Railway Lands encourages a shift to sustainable transportation modes, such as walking, cycling, rail, bus and aerial transit (gondola). It also celebrates Banff's natural and human history and supports local businesses in providing high-quality visitor experiences. The development will be a pedestrian-friendly space with multiple uses planned for one location.
Intercept parking (up to 2,500 vehicles)
Aerial transit (gondola) to Mount Norquay
Services to support passenger rail
Multi-modal transportation options (transit, walking, cycling).
Social spaces for everyday use: gardens, plaza and pathways
Entertainment: spaces for outdoor concerts, festivals and cultural events
Educational: heritage, environment and Indigenous interpretation opportunities
Recreational access.
Unique dining options, small shops, health services and more.
Banff Eco-Transit Hub will creatively integrate green transit systems with sensitive open space design to establish year-round engagement. This project will offer places people want to live, work and recreate in, generating a sense of belonging and place in the process.
The Banff Railway Lands will include five character areas:
1. Open Spaces and CPR Gardens
Rehabilitate and expand CPR Gardens (built in early 1900's)
Restore historic Spruce Allee (active 1910's-1960's)
Preserve Golden (Queen's) Willows (planted 1935)
Build a seasonal ice rink and water feature
Reestablish event viewing and recreate the historic resting spot on Gainer Hill.
2. Railway Heritage Plaza – Visitor Services
Host historic Heritage Banff Train Station
Present arts performances and special events at the:

Amphitheatre with seating for 200

Open air stage.
3. Mt. Norquay Gondola Terminus
Move ski area parking from Mt. Norquay's ski base to the Station, reduce traffic on the hill's access road, shrink ski area lease
Achieve ecological gain by removing cars from a sensitive wildlife corridor
Reduce bridge traffic within Banff townsite with shared gondola options
Include ticket terminals, ski rental, boot change area and resort administration
Incorporate Environmental and Indigenous Education Centre
4. Wright-Inspired District
Access to a series of bars and restaurants

Architecture inspired by Frank Lloyd-Wright

Banff National Park Pavilion (built 1914, destroyed 1938)
Iconic wood water tower (built 1888, replaced 1930)
Train station (designed alongside Pavilion, never built)

Historic Stainless Steel Passenger Coaches.
5. Mixed – Use (commercial, residential)
Develop high density residential housing
Provide additional commercial spaces
Create buffer for existing neighbourhood from development
Align architecture with heritage theme.