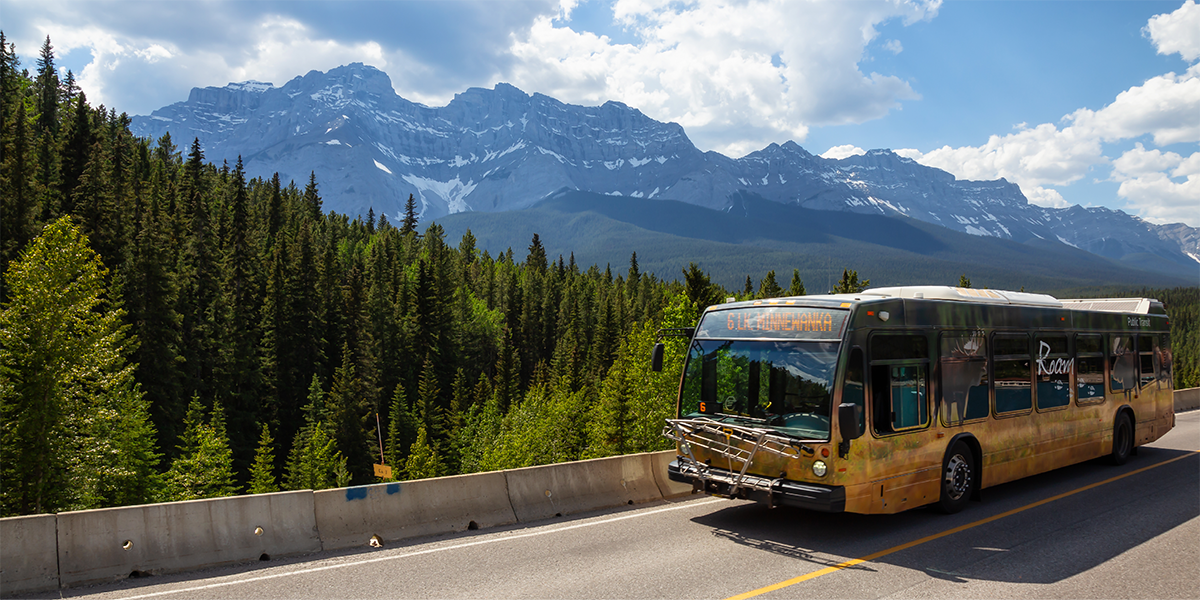 Focused on sustainable travel strategies
Banff is the oldest and most visited of Canada's 37 national parks. Of the more than four million people that visit the park annually, the vast majority arrive by private vehicle, placing considerable strains on the roadways, townsites, environment and popular points of interest throughout the park. The Banff Railway Lands Area Redevelopment Plan (ARP) offers strategies to address these challenges.
With the tourism sector forecasting visitor numbers will return to pre-COVID-19 levels by 2025, finding greener, low carbon travel modes is essential to creating a sustainable future for the park and quality of life within the Banff townsite. Currently, at peak summer times, the town can see upwards of 25,000 vehicles each day accessing a finite 4 kilometre roadway system.
While visitor numbers will continue to increase, more roads can't be built. Reducing the numbers of cars, either through expanded mass transit options or intercept parking, is one strategy to address concerns about congestion and mobility throughout the park.
Implementing low carbon transportation options to move in and around Banff is central to the ARP. With summertime parking occupancy exceeding 92 per cent at the existing south intercept lot, additional proposed stalls in the ARP will increase capacity to a total of 1060 stalls. With lots throughout the town and at popular Park destinations consistently at or near capacity during summer months, it's clear that more spaces are needed.
A key element of the ARP, a multi-modal transportation hub, would offer people mobility options to suit their wants and needs. Along with supporting networks like Roam transit, users could rent bikes or scooters, choose to explore by foot, or access shuttle services to popular destinations throughout the park.
It's important to remember the ARP is a municipal planning document. The idea of developing a gondola to Mount Norquay or a passenger rail system to Calgary Airport with stops along the way are not part of the ARP. While the prospect of both the train and gondola are referenced in several Parks Canada policy documents, and the ARP accommodates their potential, each of these aspirational projects would require additional approvals from government before anything could be advanced
A proposed gondola terminus supports Parks Canada's policy direction outlined in the 2011 Mt. Norquay Ski Area Site Guidelines for Development and Use. A gondola was identified as having "potential to enhance visitor experience, contribute to ecological integrity …, and contribute to the community's and Parks Canada's efforts to explore alternative mass transportation systems."
Support for potential passenger rail services between the Calgary International Airport and Banff is strong. The project has been endorsed by local municipalities along the proposed line, including the City of Calgary and the Towns of Banff, Canmore, and Cochrane. Additionally, the Government of Alberta's Ministry of Transportation and the Canada Infrastructure Bank have signed Memoranda of Understanding to complete studies and due diligence for the aspirational Calgary Airport-Banff Rail project.
To learn more and show your support, read the draft of the ARP here send a letter to Town Council and the Federal Minister of Environment and Climate Change here, and join the Banff Eco-Transit Hub newsletter here to get up-to-date information.