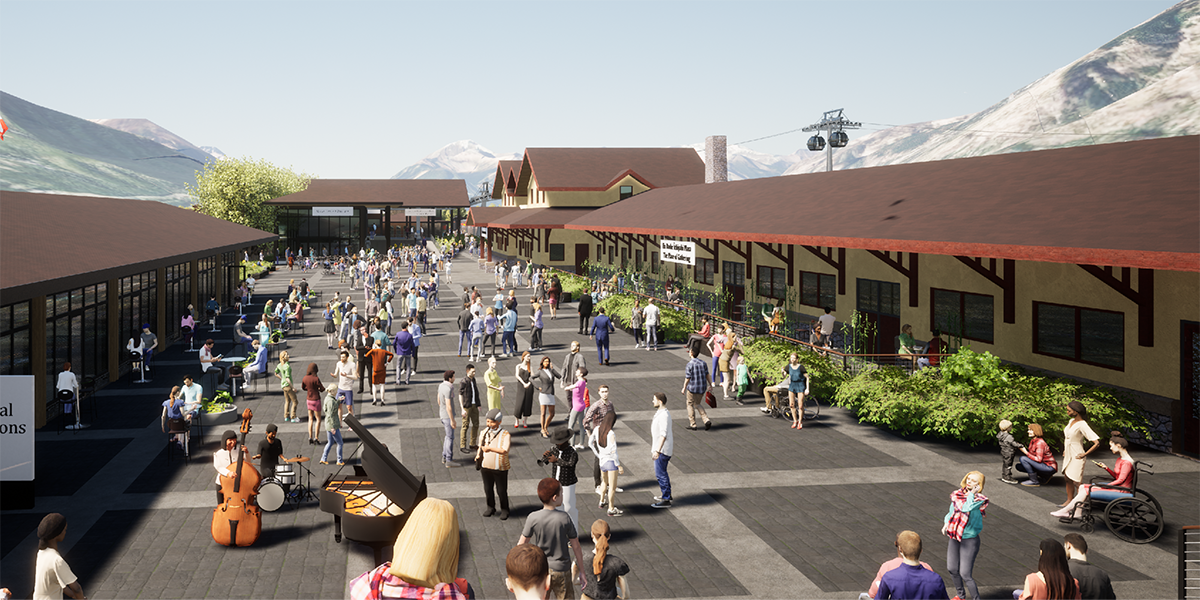 An innovative, multi-modal arrival centre and transportation hub
For over a century, the Banff Train Station has been one of the first things people have experienced when arriving in Banff. The station has welcomed passenger rail services, tour buses, and more recently, visitors looking to rent a bike or skate on one of the most scenic ice rinks in the Canadian Rockies.
The primary goal of the draft Banff Railway Lands Area Redevelopment Plan (ARP) is to set the direction for transforming the area into an innovative, multi-modal, arrival centre and transportation hub. What was once the premier entrance to town has now become a series of gravel lots and underutilized spaces.
Rehabilitation is key to revitalizing underutilized spaces within the ARP. Aligned with the Banff National Park of Canada Management Plan 2022, a series of proposed public spaces will also accommodate cultural, educational, and interpretive events. Respecting the heritage character of existing buildings will enable celebrating Banff's built history and support true to place experiences.
Congestion causes significant challenges to the town's cumulative 4 kilometres of roadways – yet intercept parking is clearly working as one strategy to reduce traffic impacts. In the busiest months of 2022, the existing lot built by Liricon had a 91 per cent occupancy rate. Along with lowering congestion, intercept lots improve mobility for residents — specifically at the primary chokepoint at the Bow River Bridge– and have also paved the way for paid parking, which is a new revenue source for the Town of Banff.
Including the existing lot, the ARP will provide approximately 1,060 intercept parking stalls. In conjunction with the new transit hub, these efforts will allow people to park and gain easier access to popular sites in the park via shuttles or local transit networks.
The ARP is a municipal planning document – nothing can be built without further approvals. The ARP includes provision for passenger rail services (shuttle centre and micro-mobility rentals) and a gondola terminus. While the prospect of both the train and gondola are referenced in several Parks Canada policy documents, and the ARP thus accommodates their potential, each of these aspirational projects would require additional approvals from government before anything could be advanced.
As one of Canada's premier tourist destinations, revitalizing the Banff Train Station and Railway Lands is an opportunity to celebrate, educate, and recognize the role the railway has played in the development of Canada. It is also an incredible opportunity to learn and celebrate the cultural heritage of Indigenous Peoples.
To learn more and show your support, read the draft of the ARP here send a letter to Town Council and the Federal Minister of Environment and Climate Change here, and join the Banff Eco-Transit Hub newsletter here to get up-to-date information.